Spring – summer season is almost upon us and soon we are going to walk the streets in short dresses and shorts. Just a little bit more time and we will show our legs, which were hidden under the thick layer of clothes for months. The biggest issue to appear at this time is how our legs look, which is far from perfect. How to take action against dryness and dullness of skin on our legs?
Firstly, exfoliation of dead skin cells
After winter, skin looks like it is covered with scales. For months kept under thick trousers legs are very dry and on their surface is plenty of dead cells. Epidermis starts to flake and it causes roughness. The answer to this will be good scrub – you can buy it in a shop or make it yourself at home with sugar or salt. Scrub will smooth the skin and reduce imperfections.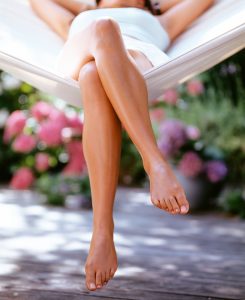 Secondly, deep moisturising
As the warmer days come, we start to switch to lighter creams and that isn't necessary. Dry skin after winter needs complex moisture, so best would be full-bodied cream with oil base. You can also moisture skin on your legs with oils rich in unsaturated fatty acids. They will restore natural pH of your skin, your body won't loose so much water and gain hydration.
Thirdly, proper hair removal
The most popular methods of hair removal are laser and wax. However, equally effective can be use of regular razor, which used in proper way can make skin silky soft. You should always make sure to not use hair remover on dry skin (best is to do it on soft skin after bath), shave hair in the direction of its growth and after hair removal apply cream for skin irritations.
Fourthly, equalise skin complexion
With the upcoming spring skin is pale and matt after passing winter. Dullness of skin on your legs can be eliminated right before first sunbeams. All you have to do is to use right cream with bronze particles or self-tanning foams. Of course, you shouldn't overuse it, because they should only help you in reducing pale skin till the moment in which legs will gain natural tan.