Three mascaras, three natural active ingredients, three unique designs, three uses and only one brand – Delia Cosmetics. Millions of satisfied consumers hold their breaths in expectation of new products from Delia, which this spring showed what can do. Their offer was enriched with mascara in three different versions matching various needs – curling Collagen Lash, lengthening Keratin Lash and thickening Argan Lash.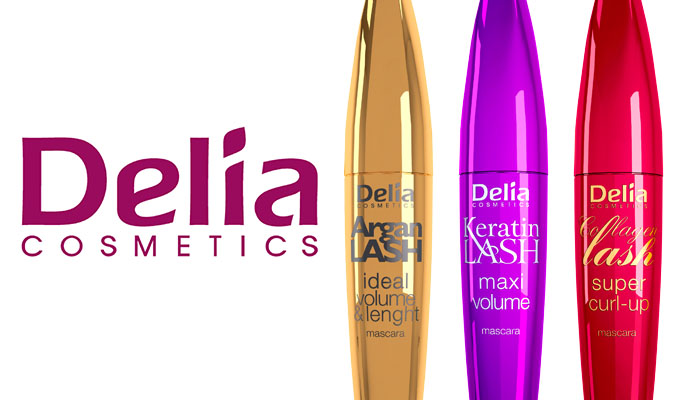 New mascaras from Delia Cosmetics are quite a surprise and caused some mix-up in the make-up world. Brand tries to change the conviction that consumers expect multidimensional properties in just one product and proposes three different solutions. Each of mascaras from Delia for spring 2016 is a proposition of different composition and properties.
Maximum thickening, Delia Argan Lash
Mascara with natural Argan oil provides lashes with nourishment during everyday make-up. Argan Lash Ideal Volume & Length has a colour of deep black and few times more increases lashes thickness thanks to asymmetrical cone shaped brush with bristle with various lengths. Newest mascara from Delia with Argan oil perfectly brushes lashes and makes them light and thickened.
Spectacular volume, Delia Keratin Lash
Enriched with keratin formula is a way to deep black colour and strengthen lashes in one. Keratin in Keratin Lash Maxi Volume ensures lashes' vitality, so they could grow faster and delight with their volume. This mascara in particular, as the only one, was equipped with silicon brush with shape of reverse cone. More thicker and lengthen lashes are in the reach of applicator.
Perfect curl, Delia Collagen Lash
More bouncy lashes are an effect of Collagen Lash Super Curl Up. Intense black formula and profiled in the snowman shape made of soft silicon brush, makes lashes more bouncy and leaves them perfectly curled up. Delia made sure that natural collagen will enrich hair structure in a matter of few days, when we apply eye make-up.