The truth is that a long time ago people were already well-aware of all the medicinal properties of castor. For some reason though, this plant oil has been used as a tool for fighting thinning hair, short lashes and brittle nails fairly recently. It's time to learn all its benefits and discover only the finest castor oils that will take care of your physical appearance in the most effective and effortless way.
Implementing plant oils into skin and hair treatments brings nothing but benefits. They work as the replacements for many beauty products that are used on a day-to-day basis. While being equally effective in delivering the desired effects as the regular beauty products, plant oils cost less and are gentler for the skin. Undoubtedly, using plant oils systematically pays off. Presumably, after realizing that plant oils are a rich source of nutrients – also the ones that can't be found anywhere else – you will probably switch your creams and masks for these precious nature-deriving cosmetics.
Which plant oil should you choose? Try castor oil – it appears to be at the forefront of the most popular cosmetic oils used for improving the appearance of hair and skin. Let's find out what benefits it has for you and learn how you can take advantage of this natural beauty product.
Castor oil – the benefits
The best castor oil is cold-pressed and unrefined, obtained from the seeds of castor oil plants (Ricinus communis) through one of the traditional extraction methods. Extraction of castor oil isn't a complicated process, and the plant itself is pretty common (the fun fact is that this plant grows in many backyards), which makes it a popular and a budget-friendly plant oil picked for various skin and hair treatments. Obviously, you can buy a bottle of castor oil at a chemist's, yet it's suggested reaching for the oil that was extracted with the intention of being sold as a beauty product, not a medicine.
It goes without saying that the better castor oil you pick, the better results you will get. Why so? Because its composition matters a lot. The mentioned cold-pressed and unrefined oil contains the most precious nutrients – vitamins, minerals, phytosterols and fatty acids. Another distinctive feature of top-quality castor oil is a high concentration of ricinoleic acid (unique to this oil only) which this plant oil owes its antibacterial action to, thus it can be applied to acne-prone skin, for example.
Castor oil is one of the thickest plant oils which may impede using it solo. Why so? When you apply too much product, you may end up with overloaded, lump hair and clogged skin pores. On the flip side, it's worth realizing that – as the only plant oil – castor oil is water-soluble, meaning that it blends with other plant oils easily.
How does castor oil work?
It's worth exploring all the benefits of castor oil thoroughly. However, in order to make it clear and easy to comprehend, it would be better to list the effects that castor oil has on specific parts of the body.
1. ON HAIR
In hair care, castor oil is recognized as the most effective plant oil to speed up hair growth. Therefore, if you're dreaming of long and thick strands, keep rubbing castor oil into the scalp before every shampooing. This will get you stronger, thicker and fuller-looking hair that stops falling out in numbers. Naturally, you can also spread castor oil over the entire hair length, however, it's recommended either to use a small amount of the oil, or combine it with a less thick plant oil. Using castor oil is a good way to smooth out the hair, add shine and intensify the natural color of the strands.
2. ON BROWS AND LASHES
It appears that castor oil is used mostly as a natural eyelash enhancer: to stimulate lashes to grow longer and thicker. Similar effects can be achieved on eyebrows. This is why many bottles of castor oils come with applicators facilitating putting the oil on the eyebrows and the roots of lashes. When used regularly, castor oil strengthens the follicles so that lashes/brow hairs stop falling out and grow out in bulk.
3. ON FACE SKIN
Last but not least, castor oil delivers positive effects when applied to skin, including face skin. It's recommended to treat acne-prone and moisture-deprived skin with castor oil – this plant oil provides effective protection from losing water. Also, owing to its properties, castor oil effectively reduces inflammation and cleanses the skin. The longer you use castor oil, the less skin imperfections should you spot on the face. How is it possible? Castor oil balances skin's pH, deals with seborrhea and frees skin from impurities, including toxins that aren't visible.
Top 5. Best cosmetic castor oils
Castor oil, Nanoil (50 ml / 1.69 oz)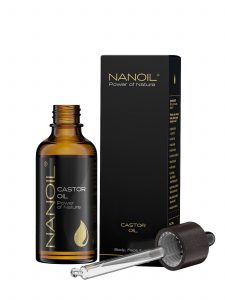 Users of plant oils are unanimous – Nanoil Castor Oil is the number 1. This cosmetic oil is cold-pressed and unrefined, thus it preserves maximum nutrients. Additionally, this organic product is free from additives. Since it wasn't tested on animals, Nanoil Castor Oil seems to be perfectly suitable for vegans. The dark-glass bottle holds 100% castor oil whose quality and environmental-friendly extraction processes are proven by Ecocert. Moreover, Nanoil castor oil isn't as thick as other similar oils, and penetrates both hair and skin quickly without causing the uncomfortable feeling of a greasy and heavy film.
Without doubt, using castor oil from Nanoil by implementing it into hair, skin, nail, lash and brow treatments pays off. Those who suffer from thinning hair or whose skin is prone to acne should appreciate the effects produced by Nanoil Castor Oil. This natural beauty product is proven to be highly effective at dealing with all above-mentioned problems: it nourishes, moisturizes, repairs, provides protection against free radicals, is antibacterial, reduces redness, rejuvenates as well as stimulates self-healing processes in cells and speeds up hair growth.
There are more to Nanoil castor oil than what has been mentioned above. Therefore, visit nanoil.us to check out all benefits of Nanoil Castor Oil on hair and skin. On the official Nanoil website you can order genuine castor oil with home delivery. Learn other cosmetic oils from Nanoil.
Castor oil, Kreyòl Essence (50 ml / 1.69 oz)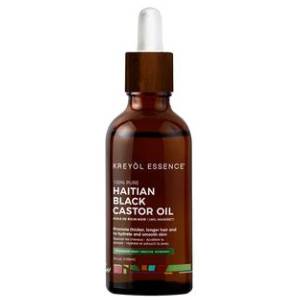 Castor oil from the Kreyòl Essence is one place behind the top castor oil. Looking equally elegant, this castor oil seems to be suitable for hair and skin treatments. Inside the black bottle you can find Haitian castor oil, called black oil (note: it's not about the color because it's typical – light yellow). What's interesting, this oil is mainly available in Original version, which is 100% castor oil, but you can also find it blended with other plant oils such as mango, papaya, coconut as well as lavender and hibiscus oil.
Haitian Black Castor Oil from Kreyòl Essence is recommended for hair care, especially to treat curly hair. It's commonly used as a hair growth promoting oil, however, the opinions concerning its effectiveness are mixed. Still, this oil is surely perfectly able to improve moisture in hair, supply it with nutrients and provide protection (e.g. sun protection). Castor oil from Kreyòl Essence is also successful at adding more body to lashes and brows as well as conditioning skin, yet the latter application seems to be the least popular among its users.
Castor oil, Earth To You (100 ml / 3.38 oz)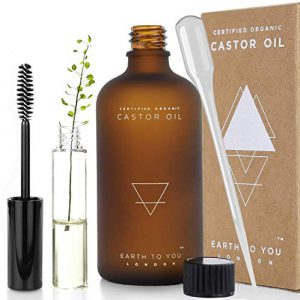 The group of the most popular, yet also the most expensive castor oils includes Certified Organic Castor Oil from Earth To You London. Evidently, it looks luxurious and costs as much as an exclusive cream, but inside you can find the well-known castor oil – cold-pressed, unrefined and organic, and these qualities are proven by USDA certification. Indeed, this is a high quality castor oil.
Earth To You cosmetic oil can be used in any way you like – it serves hair, skin and even lashes pretty well. The good news is that this castor oil comes with a special applicator that significantly eases putting it to the eyelashes and eyebrows, and the whole process takes just a short while. Inside the box, you can also find an easy-to-use dropper and a small bottle, and therefore you can carry Earth To You oil in your bag to use it throughout the day, always when you feel that your skin is dry, your lips are chapped and nails seem to get weaker.
Castor oil, Junglück (100 ml / 3.38 oz)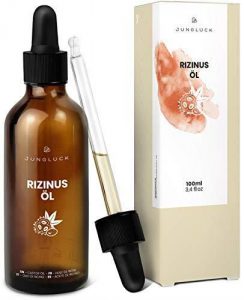 An offering from a German brand – Junglück Rizinusöl – is a cold-pressed and unrefined castor oil closed in a simple and elegant packaging made of glass. This oil is extracted from vividly red fruits of ricinus communis, which are proven to brim with a huge quantity of nutrients essential for human skin and hair (e.g. ricinoleic acid triglyceride). Apart from that, Junglück castor oil has light yellow color and neutral aroma.
The most common application of this beauty product is using its abilities to promote lash, brow and hair growth. Rubbed into the scalp, castor oil from Junglück makes follicles stronger, thus the hair bulbs sit deeper. The hair becomes visibly stronger and more resistant to damage. Thanks to being natural, Junglück Rizinusöl is also suitable for skin care.
Castor oil, Satin Nature (200 ml / 6.76 oz)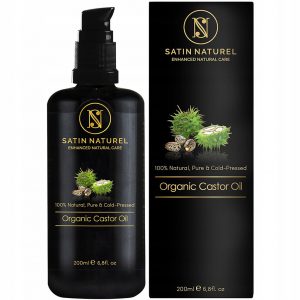 While listing the best castor oils one shouldn't forget about Organic Castor Oil Satin Naturel. This is vegan-friendly, cold-pressed, organic, 100% natural and pure castor oil destined for hair and skin care. It's closed in fairly big black packaging that is both elegant and convenient – the oil comes with a dropper that makes application easier and less messy.
However, using castor oil from Satin Naturel is recommended not due to the fact that it looks luxurious or that is priced high, but because it appears to be pretty effective. This plant oil lacks additives, which makes it an universal beauty product. It helps moisturize skin and remove blemishes. Also, it aids in dealing with acne, fixes brittle and splitting fingernails as well as reduces dandruff. But most of all, Satin Nature castor oil speeds up hair growth which guarantees you getting longer and thicker hair, eyelashes and eyebrows in just a few weeks.