Small and handy spheres gained wide crowd of fans lately. American lip balms in a small and sweet packagings rule in chemist's shops. First brand to appear in shops was EOS for which competition created square BALMI. Which lip balm is better? EOS or BALMI – which brand do I recommend? Read and see.
Sphere EOS is a handy lip balm that came to us from USA, where for long time now, rules. BALMI products showed up a bit latter. Both brands are available in chemist's shops or online, but aren't cheap as for such a small (7g) lip cosmetics.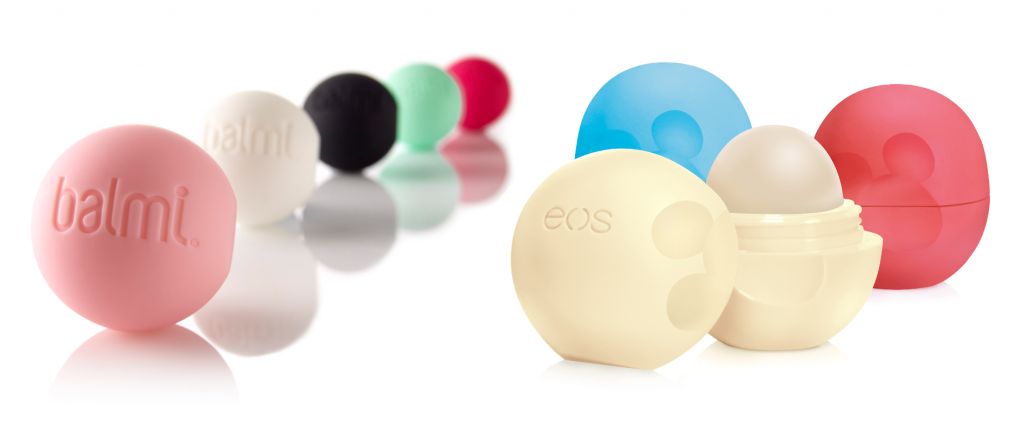 Packaging:
Both products are placed in small plastic packagings, which only after twisting the top show their content. It's a big plus, that makes even men try them. On the top of both spheres are embossed brands' names. Initially BALMI was placed in an identical sphere as EOS, but brand decided to change the concept and now BALMI has square packaging with an attachment at the bottom where you can put it onto keys. The quality of BALMI is worse than the original American lip balm. A bit problematic in both cases is closing – the top won't allow fast application.
Composition:
EOS lip balms are 100% natural and ecological. In their composition we can find: shea butter, vitamin E, olive oil, jojoba oil and antioxidants. Available is also version with SPF 15. BALMI is quite similar, but not entirely ecological. In its composition we can enumerate shea butter, jojoba oil and SPF 15. Unfortunately in BALMI we will also find chemical ingredients.
Expiration date:
Because EOS is 100% natural, so its expiration date is much shorter than BALMI, but person who uses lip balm regularly will finish both at the same time.
Flavour and scent:
Currently, EOS has in its offer several flavours and scents and bits BALMI in this matter, because they have only few flavours in their offer. EOS spheres are sweet in taste, but their scent is weak and not entirely natural. BALMI has much more pleasant and intense fruit scent, but doesn't offer sweet flavour.
Formula:
EOS balms have a harder and waxier texture which gives the lips a smoother without oily layer. BALMI, on the other hand, is more sticky, oily and greasy. In consistency resembles vaseline, so its heavier than its opponent. It, of course, influences the efficiency – EOS will last longer than BALMI.
Results:
EOS formula is definitely less moisturising, because sphere protects lips, but provides weaker moist, so it is not recommended for very dry lips. BALMI gives better grease and soothes dry skin, though it is not a long lasting nourishing, rather temporary relief.
To sum up:
EOS definitely wins with: 100% natural composition, durable packaging, lighter consistency without greasy layer, harder texture, better durability and wider palette of flavours. BALMI looses in those categories, but has also some pluses, like longer expiration date (because of chemical ingredients), more intense scent and the possibility of attachment to keys. BALMI's formula will come handy in a winter, when we need more grease and moisturise for our lips. EOS, on the other hand is a perfect proposition for summer, because protects lips without weighting them down.