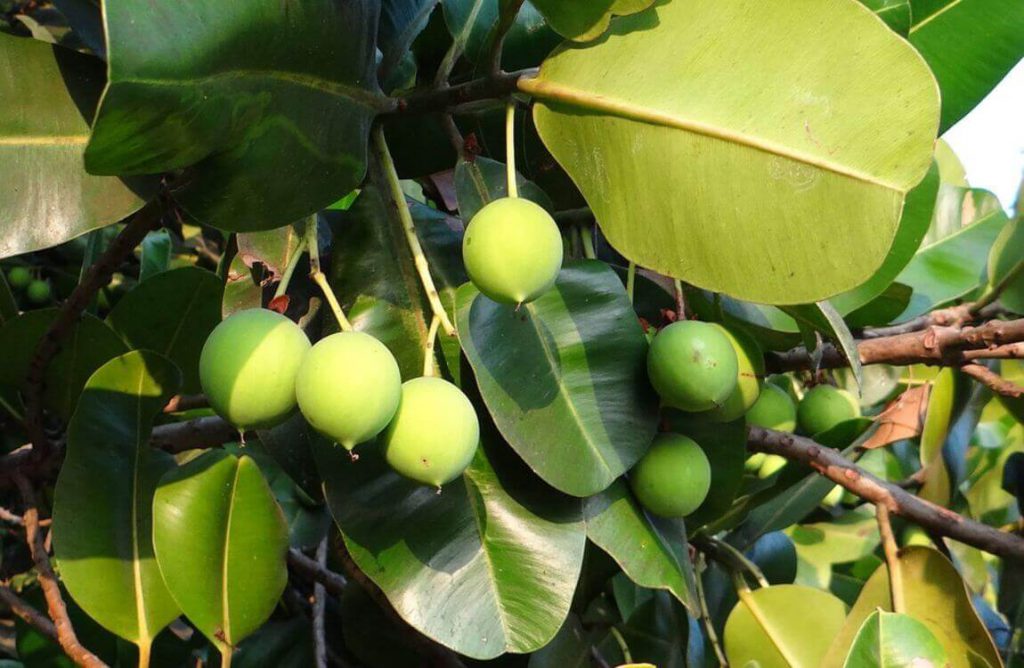 Tamanu oil is obtained from trees of the same name. They cover areas of Asia, Africa and Oceania. Their fruit look like green plums or apricots, yet the skin is extremely thin, and inside there is a large stone, resembling the texture and size of the well-known and popular chestnuts. The oil is mass produced in Madagascar; it is obtained from these pips, which – left for a month in a warm and dry place – start to pour precious, dense oil with a characteristic smell, unlike any other oil.
Tamanu oil INCI: Calophyllum Inophyllum (Tamanu) Oil
Tamanu oil – composition 
The most important ingredients of tamanu oil are unique fatty acids (including Callophylic acid) and calophyllolide – a flavonoid that soothes irritated skin, and is able to reduce swelling and alleviate skin oedema. Tamanu oil also contains phytosterols that support the production of collagen and reduce the breakdown of elastin in the cells, so that the skin and hair stay in good condition for longer. The most important sterols from tamanu oil include stigmasterol – it strengthens the hydro-lipid layer of the skin and is responsible for the proper level of its hydration. It will also protect the hair from excessive drying. Tamanu oil owes its density and intense, unusual odour to the presence of natural resin. Nevertheless, it absorbs into the skin extremely fast and leaves no greasy film on it. Tamanu oil also contains a high concentration of oleic acid, which intensifies the penetration of active ingredients into the deeper layers of the skin.
Tamanu oil – cosmetic properties
Due to the presence of linoleic acid, tamanu oil handles even extremely dry skin, strengthens its protective barrier and protects against water loss. Oleic acid is a monounsaturated fatty acid from the omega-9 group, which molecules ideally adapt to hair with medium porosity. Tamanu oil has healing and even analgesic properties. It has anti-inflammatory properties and soothes all skin irritations, efficiently combats free radicals, is a powerful antioxidant, perfectly regenerates the skin and reduces the visibility of scars and stretch marks on the body. calophyllolide contained in tamanu oil has anti-bacterial, anti-inflammatory effects and is a light antibiotic.
Tamanu oil – use and application 
tamanu oil works well in combination with hyaluronic acid (it can be used as a two-phase facial moisturiser)
tamanu is often used in creams and balms for stretch marks – it can be added to massage preparations, or applied to the skin in places of stretch marks
it is ideal as a serum for the care of oily, acne, combination and impure complexion (it soothes pimples and blemishes, reduces the visibility of acne scars)
it is also ideal for irritated skin (tamanu oil is recommended, among others, after acid treatments or as a treatment after retinol use); it promotes regeneration and supports the formation of new and healthy epidermis
Tamanu oil for hair – effects 
Tamanu oil is ideally suited to the care of irritated scalp. It helps fight dandruff and eczema, soothes dry skin, suppresses pruritus and burning, relieves all inflammation, cleanses, disinfects and provides antibacterial properties. Tamanu oil stimulates the work of bulbs and cleanses the hair at the base (it is perfect for the so-called protein overload), it also helps to remove the keratin built up on the scalp (its excess can inhibit hair growth). At the same time, tamanu oil cleanses the hair of toxins, smoothes and polishes the strands and protects them from damage.
Tamanu oil for hair – application 
In order to perform hair oiling treatment with tamanu oil, you should first wash the strands and skin of the head to get rid of excess cosmetics and sebum build-up – this will increase the absorption of oil and enhance its effect. So first, wash your hair, and then apply the oil to damp, towel-dried hair. The most important part of oiling is the scalp massage – the oil should cover the entire scalp so that it does not run down the hair and skin. When the head and hair are covered with oil along the entire length wrap it with a towel to warm up the oil and wait a few minutes or (even) several hours. Next, wash it out with SLS, SLES-free shampoo.
Tamanu oil – reviews
It must be admitted that tamanu oil collects much better opinions as a specifics for stretch marks and scars, than oil for hair oiling. It is a perfect remedy for irritated or dry skin – it is less frequently applied to the hair, but those people who have irritated scalp can successfully reach for tamanu oil.
Tamanu oil – price
Tamanu oil has a fairly high price compared to other oils – it certainly determines its lower popularity compared to other oils. The tamanu price is comparable with other exotic oils; When buying, it is worth paying attention to whether the oil is unrefined and whether it has been closed in a dark bottle. It is best to store it at a temperature lower than 25 ° C.