Those with couperose skin know how demanding it is to find the right treatments to keep the skin calm, especially without having the right cosmetics to hand. Today we're presenting to you anti-redness serum brought out by Nanoil, ideal to disembarrass everyone for whom the state of irritated skin is a standard fare.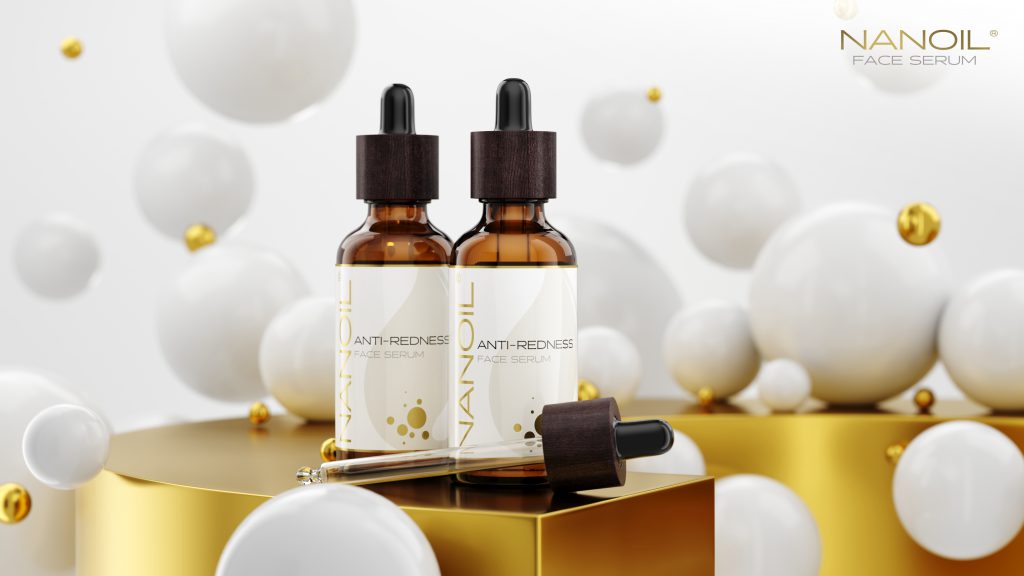 Nanoil Anti-Redness Face Serum is a new offering which those with couperose, sensitive and redness-prone skin were waiting for. After the huge success achieved by other Nanoil beauty products, it was just a matter of time for this anti-redness serum to become a top-chosen skincare product of thousands of women. What is its secret?
Nanoil Anti-Redness Face Serum. Fall in love with the amazing lightness of the serum!
Among the pluses of Nanoil Anti-Redness Face Serum there is one that deserves special recognition – the super-lightweight formula that skin absorbs easily and fully. This means that the serum doesn't create any greasy film on the skin's surface. Neither does it cause the feeling of tightness. Instead it brings tremendous relief that irritated skin seeks. Owing to the fact that Nanoil serum is water-based and doesn't contain any oils, it doesn't clog pores and works exactly where it's needed most – deep inside the skin.
What is Anti-Redness Face Serum made from?
Since the face serum for couperose skin from Nanoil is free from oils, what is it made from? Only the best ingredients that aid in erasing facial redness, soothing irritation and providing skin with the tender care it deserves.
Each drop of Nanoil Anti-Redness serum contains:
lime tree extract of an anti-inflammatory effect.
horse chestnut bark extract that makes capillaries stronger.
cypress cone extract that delivers nutrients.
Punarnava root extract which is a strong antioxidant.
vitamin B3 that moisturizes and deals with inflammation.
Those who wish to find out more about this top serum for couperose skin can access the information on the official Nanoil website, in the FAQ section. You can also order the original serum with home delivery.
What are the benefits of using Nanoil Anti-Redness Face Serum?
Firstly, this serum effectively deals with all types of skin irritation. It brings relief to tight, dehydrated and reddened skin by refining its texture, thus leaving it smooth and even. The serum also handles the problem of hyper-reactivity – e.g. when you're outside in the cold weather – because it provides the much-needed protection. Furthermore, Nanoil face serum from couperose skin prevents spider veins and reduces broken blood capillaries that can be seen through the thin skin. On top of that, this serum moisturizes, nourishes and shields from free radicals. This is an all-round product that handles various skin concerns. It's definitely worth trying!
Nanoil Anti-Redness Face Serum is perfect for you!
Who should reach for Nanoil Anti-Redness serum? Those whose complexion is irritation-prone, sensitive and demanding. Those whose skin is defined as couperose. Those who want to reduce the appearance of small dilated capillaries. Those whose skin is always reddened, prickles, and feels tight and dry. Nanoil serum will help in each case.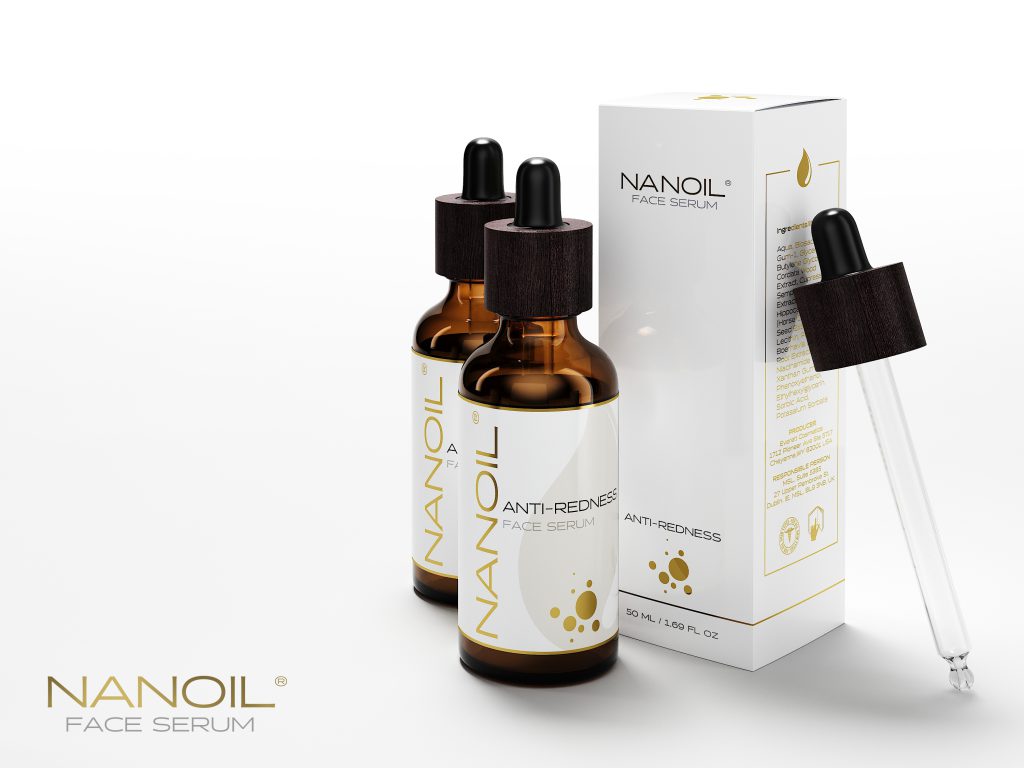 Nanoil Anti-Redness Face Serum – application
There are more reasons that make Nanoil serum worth reaching for than its multipurposeness. This serum is also easy to use and the application itself is a sheer pleasure and a moment of relaxation which is so precious for those with irritation-prone skin. Those who want to take good care of their skin can achieve this goal by following three simple steps.
Makeup removal and evening skin cleansing.
Application of Nanoil face serum.
A short face massage done either with fingers or a facial roller.
This is how each of five Nanoil face serums (vitamin C, retinol, hyaluronic acid, collagen, aloe and white tea) needs to be applied.