Damaged, splitting hair and nails, sagging skin and face lines, plus cellulite and stretch marks… Believe it or not, one product can fix all of these problems. What is it? Organic argan oil tops all face, body and hair products, giving you spectacular effects. Which argan oil is best then? We tell you which one to choose for the best results!
Argan oil: components
Have you ever wondered what makes argan oil produce such brilliant effects? Without doubts, it is unrivalled when it comes to beauty benefits and multiple uses, and owes it to the exceptional ingredients and perfect proportions of essential unsaturated fatty acids (EFAs). It is a masterpiece created by mother nature. Argan oil contains over one hundred active substances that have great beautifying effects. Here's the list of ingredients:
Tocopherols, including vitamin E known as vitamin of youth
Phenols, or natural, strong antioxidants
Carotenes, including vitamin A which delays aging process
Squalane which controls production of oil and is a strong hydrator
Flavonoids which fight free radicals and minimize face wrinkles
EFAs, or unsaturated fatty acids that protect the skin and make it function properly
Beauty uses for argan oil
A high-quality argan oil turns out to be the marvel of natural cosmetology. Its effectiveness is confirmed by millions of users while its variety of uses will sweep you off your feet! See the top uses for argan oil.
Argan oil for use on hair
It is a superb hair oil treatment to use on wet or dry hair, and rub into the ends; try creating natural strengthening and beautifying mist based on the oil to enjoy lovely, shiny hair all day.
Argan oil for use on body
Use argan oil for a body massage, mix it with a body lotion or essential oils, add it to your bath water, and use after sunbathing. This oil is a natural way to get flawless, smooth, elastic skin!
Argan oil for use on face
Limp face skin? First face lines, blemishes, dark spots or acne? Argan oil is going to help you out! Use it as a night serum, add it to your foundation, mix it with a day cream, and enjoy flawless, radiant, rested-looking skin.
Argan oil for use on under-eye skin
Both fine lines and deep wrinkles are smoother and less noticeable thanks to argan oil. It also adds elasticity to the skin. You just need to use natural argan oil regularly.
Argan oil for use on nails
Argan oil is the best remedy for dry, brittle nails and to fix damage from gel manicure. Rub it into the nails and cuticles every evening to notice the improvement soon.
Argan oil as ingredient in beauty products
You can add your natural argan oil to all beauty products. Mix it with face cream, body, foot or hand lotion, hair conditioners, and use it as a base for DIY cosmetics. There are limitless possibilities.
Effects of argan oil
REPAIRS damaged skin layers
FIGHTS blemishes and pigmentation marks
PROTECTS against UV and hostile environmental factors
REGULATES secretion of oil and prevents excessive oil production
MOISTURIZES the skin by preventing loss of water
SMOOTHES wrinkles and neutralizes activity of free radicals
ADDS SHINE AND IMPROVES condition of hair
How to choose the best argan oil?
To get all of the benefits, you need the best argan oil. How to find one? Just read our reviews below. How do we know which ones work best? We used some strict criteria while taking our picks: user reviews (best reflection of products' quality and effects), origin of oils (the best crops are found in Morocco), and properties of oils (if they are unrefined, cold-pressed, organic certified). Only the top quality oil could win in the following ranking!
Best Argan Oil: Ranking of the Top-Rated Products
★ Nanoil Argan Oil [50ml]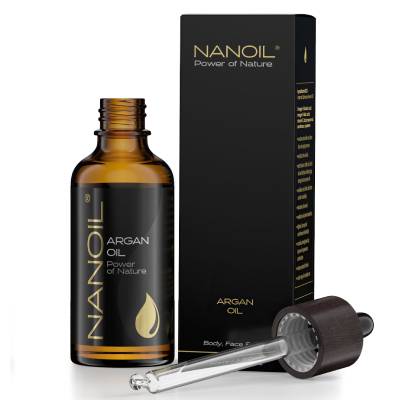 Certified by Ecocert, pure argan oil without any additional enhancers. It has been extracted from Argan trees growing in the untouched regions of Morocco.
Nanoil has set the bar very high and offers a top-quality argan oil which preserves all beneficial elements and nutrients making it a brilliant beauty product.
Nanoil Argan Oil strengthens the hair and prevents thinning, helps repair dry and damaged strands, and is a deep-conditioning hair oil treatment which clears the scalp, but also works for make-up removal. It smoothes fine lines, adds elasticity, helps get rid of acne and pigmentation marks. This multi-purpose cosmetic conditions the body, hair, lashes and nails! Users are very happy with the effects and it's actually the highest-rated argan oil.
Would you like to learn more about the ranking winner? Go to www.nanoil.us/argan-oil where you can place an order for your Nanoil with convenient home delivery. Check other brilliant beauty oils by Nanoil, and the argan oil-rich hair-care products.
★ Timeless Argan Oil [60ml]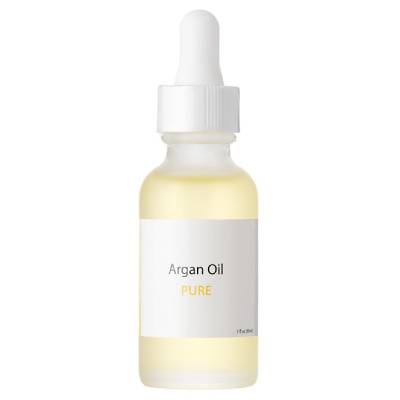 This pure argan oil comes in a neat bottle. You need to be careful because the ascetic packaging doesn't protect the oil so it's best to keep it away from the light so it doesn't go rancid and lose the beneficial ingredients of cold-pressed argan oil. The Timeless Argan Oil is rich in rejuvenating vitamin E, essential fatty acids and natural antioxidants.
It prevents transepidermal loss of water, protects against harmful UV, freezing weather, wind, etc. The product perfectly nourishes dry skin and adds elasticity, and works for body massage and hair oil treatment.
★ Josie Maran Argan Oil [50ml]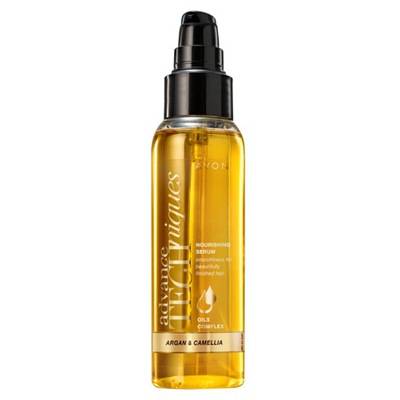 Pure Moroccan argan oil from Josie Maran works well but it is pricey too. It comes in a nice dark glass bottle to prevent the oil from going rancid. Josie Maran argan oil is ideal to use on hair, skin, and nails. You can use it the way you like and whenever you want. It works well as a face moisturizer, oil for dry nail cuticles and strengthener for the nails damaged from gel. The product keeps the body skin conditioned. It's a rich source of essential fatty acids. Use it for massage or nourishing therapy for hands and feet.
★ Moroccanoil Argan Oil [50ml]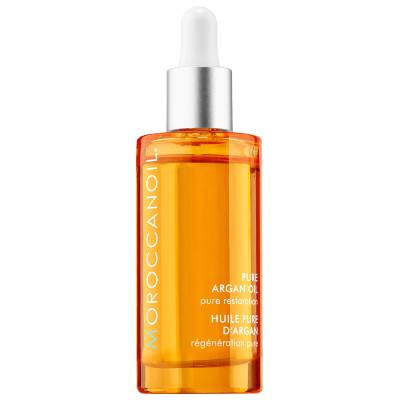 Moroccanoil is a well-known hair-care brand which also launched pure argan oil free from synthetics, alcohols, and silicones. This 100% pure argan oil is a perfect body-care product. Still, many reviewers say it must have been processed somehow because it is completely aroma-free (natural argan oil has a subtle nut aroma). The high price is another thing users complain about. As for the benefits, the oil is rich in essential fatty acids, vitamin E, and antioxidants. You can blend it with a body lotion or hair conditioner. Because it comes in a clear bottle, it should be kept away from the sunlight.
★ The Ordinary Argan Oil [30ml]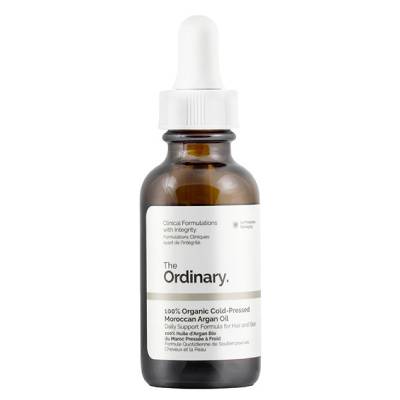 This oil has been designed for limp skin, brittle nails, and damaged hair. Unrefined, cold-pressed argan oil from The Ordinary comes in a dark glass bottle which prevents it from going rancid. It is vegan-friendly and organic, and abounds in omega fatty acids. The oil is a rich source of carotenes which condition and rejuvenate the epidermis. The Ordinary Argan Oil nourishes the complexion and nails, and relieves chapped lips. You can use it on hair too: rub a small amount of the oil into damp hair after shampooing or dry hair before heat-styling. Out of all oils here, this one has the smallest size (only 30 ml of argan oil).
★ Satin Naturel [100ml]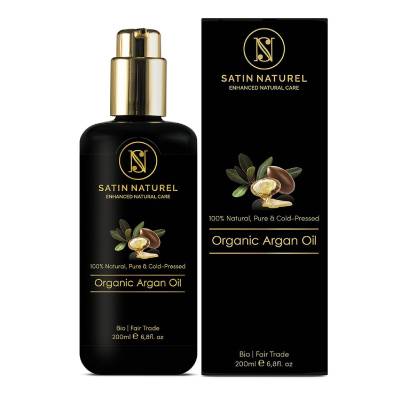 Another highly-rated argan oil has been launched by Satin Naturel. It comes in a big 100ml bottle. This unrefined, cold-pressed and certified argan oil is rich in vitamin E and plant polyphenols which keep the complexion young and rested-looking. The oil can be used on the whole body and hair (dry, damaged strands). Satin Naturel provides vegan-friendly oil with two applicators: pump and spray so you can choose the most convenient one. The oil nourishes dry hands and feet, and strengthens weak, gel-ruined nails.
★ Zone Milk Shake Argan Oil [50ml]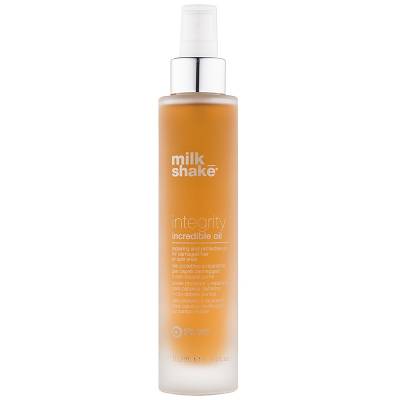 Damaged nails, weak hair, dull face skin, blemishes, tired-looking complexion? Argan oil comes to rescue! It intensifies skin repair and evens out the skin tone, makes the hair smoother and shinier, plus prevents loss of moisture. Zone Milk Shake Argan Oil is pure and organic. It gets good opinions but many users complain about the bottle which doesn't protect the oil from the light so the product may lose its beauty benefits. Some reviewers don't like the price either. There are definitely high-quality argan oils that are more budget-friendly.